Optimize full body rotation to optimize health and performance, with Lift Clinic's team of physio, chiro, RMT and strength coaches!
Full body rotation is fundamental for everyday movement and how we perform the activities we love doing. As such, limitation in our trunk rotation can cause pain all over from head to toe. For instance, from walking and sprinting, to throwing, having quality full multi-segmental rotation helps with efficiency. Additionally, having optimal full body rotation can help performance through improving power output. 
See what our clients have to say :
I came in for a physio appointment with Diana a few months back with some pretty bad back pain and hip pain that was preventing me from doing my job to the best of my abilities. Within my first initial assessment, Diana was immediately able to pinpoint where my problem areas were and not only did hands on treatment to provide immediate relief, but educated me on how to strengthen so that I could continue to reduce my body pains and prevent any similar future injuries.
Book in your next physio with Diana, she will fix you up and improve your recovery game by 200% to keep you performing at your best
I went to Sam to deal with a chronic low back injury a few weeks ago. He did a thorough assessment and treatment of the area, and provided some challenging exercises that suited my current level of fitness. His approach to rehab is modern and I really liked the fact that it was 1 on 1 the entire session, rather than only seeing the physio for a brief part of the session. I definitely will be coming back and highly recommend Sam as he is an extremely kind, welcoming, and knowledgeable individual. I feel much better! Thanks Sam!
Visit our IG post to get a sneak peak into full body assessment that we use
Full body rotation screen: what is optimal?
Now that we know the importance of rotation, how do we assess rotation at Lift Clinic, and how do we identify the root causes?
✅ Opposite shoulder comes around 
✅ 50 degrees of rotation through torso 
✅ 50 degrees of rotation through hips 
If you didn't pass the assessment, Lift clinicians will help you identify where the limitation may stem from. These breakouts can be assessed in the following positions. 
In sitting, we can assess knee and thoracic spine rotation. 
Knee: At the knee joint, the shin should be able to rotate 20 degrees both ways (internal and external rotation). 
Thoracic spine: In sitting, we can quickly screen thoracic spine rotation. In sitting, there should be 50 degrees of rotation through the thoracic spine.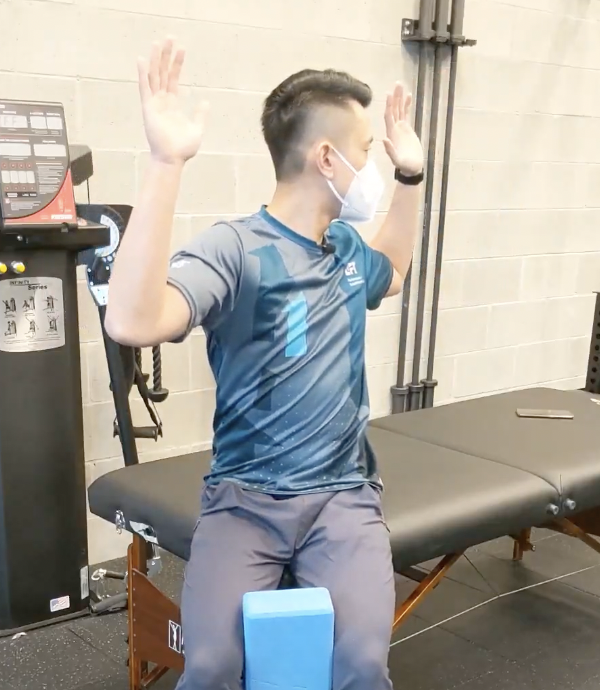 The lumbar locked rotation position helps specifically isolate the thoracic spine by locking out the lumbar spine and hips. This position is also convenient because it allows us to measure the degrees of rotation, 60-65 degree is the goal. 
Quadruped knee to elbow allows us to look at the ability to rotate while flexing the spine. The ability to rotate and flex is as important as rotating while extending. The qualitative goal is to bring the knee to touch the opposite elbow. 
Lumbar rotation can be assessed in a prone on elbow position. This unlocks the lower back and the goal is 30 degrees on each side. 
Prone hip rotation allows us to look at the ability for the hips to rotate while in hip extension. The goals are: 30 degrees for internal rotation, 40 degrees for external rotation, for a total arc of 70 degrees.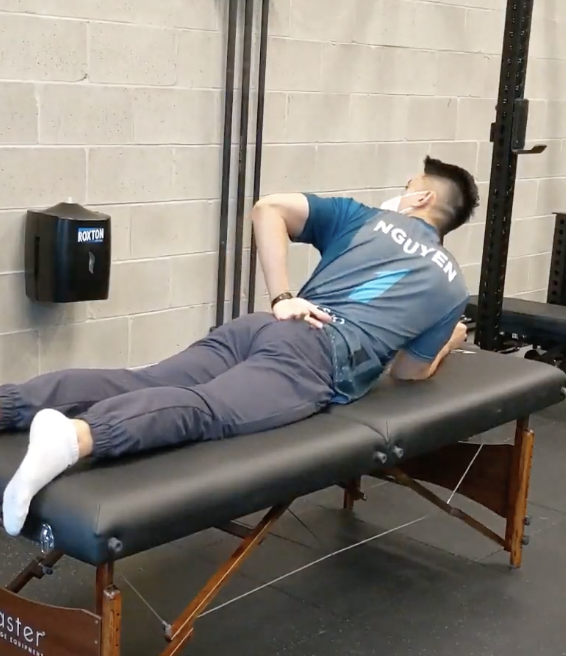 If there is an extreme bias toward internal or external rotation, it is important to use Craig's test, a special test used to determine the potential presence of anteversion or retroversion. 
Anteversion and retroversion refer to the angle at which the hip joint (ball) inserts into the acetabulum (socket). Typically, the normal range is between 8-15 degrees of anteversion. 
If the client is less than 8 degrees, they may have retroversion, which will present with lots of external rotation, and less internal rotation. 
If the client is greater than 15 degrees, they may have anteversion, which will present with lots of internal rotation, and less external rotation. 
Imaging can be used to confirm the degree of anteversion. Clinically, it may be useful to educate clients on the findings to help them with exercise comfort. For example, someone with more anteversion, may prefer squatting with toes more forward, than pointed outwards.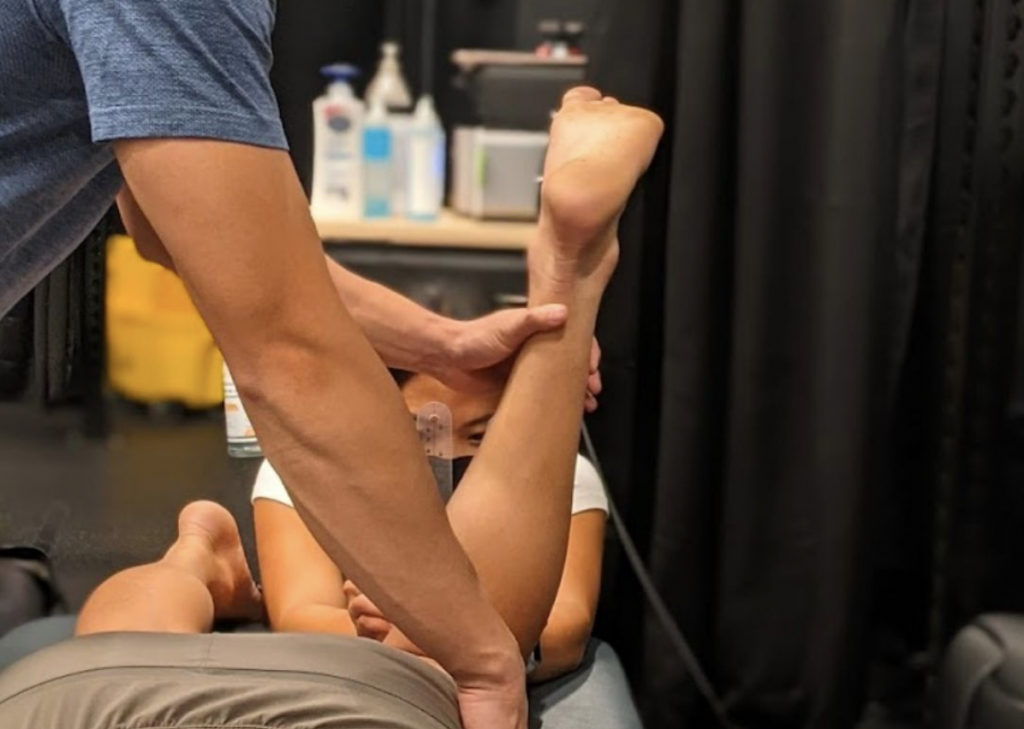 Try it yourself!
Set up a camera directly behind you, and try to rotate as far as you can in each direction.
If you want to swing harder, swim faster, or throw further, DM or book online to work with a Lift clinician to work towards your goals!
Stay tuned to see how we treat these limitations in our coming posts for this series on reset techniques.