Thank you for dedicating your time to be with us and to share your insight! Here are some things that may be helpful to know before your presentation:
We are located at 4030 Knight Street, Vancouver, B.C. near the intersection of Kingsway and Knight. If you plan to drive to the clinic, there is free, 3-hour parking under SaveOn Foods (second level, open from 7 am to 10 pm) or there is also free street parking around the building (please refer to parking restriction signs). For transit, you can either take the #19, #22, or #25 bus. The closest stop on the Expo Skytrain line is located at Nanaimo station and the closest stop on the Canada Skytrain line is located at King Edward station. There are also bike racks located in front of the clinic.
Preparing for the presentation
Please let us know if you require any supplies or equipment for your presentation. We have the option to set up a projector if needed.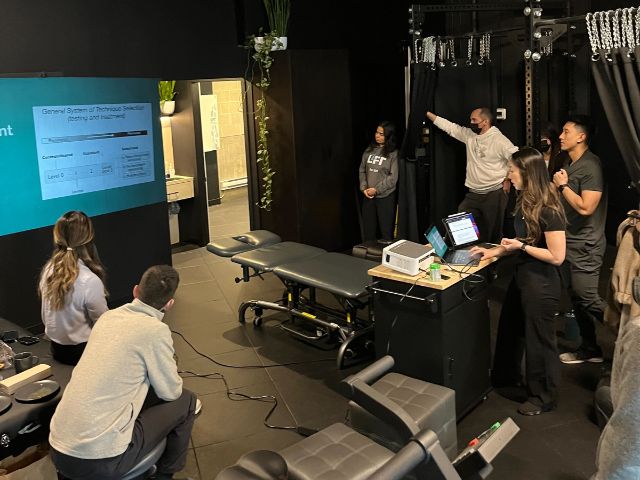 Understanding your Audience
Founded in 2017, Lift Clinic is purpose-built to deliver team-based care spanning the performance to rehabilitation spectrum. We are a close-knit group who value being active in our personal lives and advocate for this in a full range of client populations. We actively support youth sports, running team-training programs, tournament event services, and coordinating a substantive student-trainer program which has grown to 20 student trainers serving 9 ultimate frisbee teams as of 2023. The majority of these services are provided at-cost and with significant volunteerism. Beyond this, we actively mentor the next generation of professionals (kinesiology, physio, RMT and chiro students), which helps us build our team and challenge ourselves to strive for excellence in our clinical practice. Our group has grown rapidly to a total of 13 practitioners – consisting of 5 physiotherapists, 3 massage therapists, 2 chiropractors, and 3 kinesiologists/strength & conditioning coaches. Our client experience team has now grown to 7 current undergraduate Kinesiology students who we actively mentor and coach in their career development.

As a group, we have studied and practised our assessment methods together so we can access the collective skillset of our team. We're able to combine unique perspectives and collaborate on a client's treatment path. Our practitioners hold certifications or significant experience in strength and conditioning and sport coaching. We have also all had experience working in the field and on the court with athletes. We understand "performance" might mean going for a regular walk for some, or winning an olympic medal for others, and strive to meet each client where they're at. We understand that individual clients have different circumstances and stages of readiness (precontemplation, contemplation, preparation, action, maintenance) in terms of physical ability, and their ability to engage in rehab and performance training processes. So every client relationship starts with gaining a clear understanding of their goals (and in many cases, helping them to identify, articulate and develop their goals!).

We are proud of our achievements so far, and keen to develop our professional networks such as orthopedic surgeons or sport med physicians, empower individual practitioners to connect more deeply with their own communities such as basketball or dragon boat, post-natal or powerlifting. And, sometime in the next few years we'd like to expand to a second location and offer a great place to work for some of the superstar up-and-coming students we've been mentoring!
Thank you again for your time, we can't wait to learn more from you soon!