Beat Knee Pain and Improve Performance With Lift Clinic's Vancouver Physiotherapy, Chiropractic, and RMT Massage Therapy Team.
Ok, let's talk about the knee! What to expect from rehabilitating your knee pain with Lift Clinic, and how our clinicians can help level-up your knee function and performance.
Whether you're here for performance...
After two knee surgeries, Travis and Sam are the most amazing Vancouver physiotherapists out there. They both are exceedingly competent in their expertise and am always left feeling empowered, not only with my rehab, but in my strength and performance life journey.
...or for rehabilitation, we're ready to help.
A clean and professionally run clinic. I've been seeing Henry since injuring my knee in December and I'm really happy with the progress so far. Henry is easy to get along with and quite knowledgeable, providing stretches and strength building exercises based on my needs week to week. I highly recommend both Lift and Henry for physiotherapy!
Take a sneak peek into how we work with the knee at Lift Clinic
Physiotherapist Travis Dodds shares how clinicians at Lift Clinic can treat your knee to eliminate pain and optimize performance.
What's it like to rehabilitate your knee with Lift Clinic?
When you come in with knee pain, the first thing we do is start by asking questions to help get a better idea of your situation. Questions like what's your sleeping pattern like, what other conditions or injuries have you had, and most importantly, what you hope to achieve with treatment. Next we look at why the pain is happening. Sometimes it's obvious when your injury happened, maybe from a fall or twisting motion. Maybe it was inevitable, or in some cases it could have been prevented in the first place. All of these considerations are taken into account when we first assess you, creating a full picture of your situation and looking for that root cause. 
At Lift Clinic we strive to provide you with a thorough assessment that incorporates an understanding of your head to toe movement abilities and how these relate to your pain and injury. We believe in helping clients level up movement by addressing root causes of pain. As a team we train together to help ensure our clinicians know the abilities of their teammates. This is so we can make accurate "passes" when sharing clients, like how elite sports team make passes as they work towards scoring a goal. 
We encourage clients to think big picture and help us understand who you are and what's most important to you. So we like to start by asking questions like this: 
What would you be doing right now if your health and function were 100%
This is a question we want each and every one of our clients to ask themselves before they come in. Every client has their own unique goals and abilities. What's important to you and what you want to achieve is a fundamental factor in creating your individualized treatment plan.  Our aim is to help you overcome pain and improve performance so that you can keep doing what you love!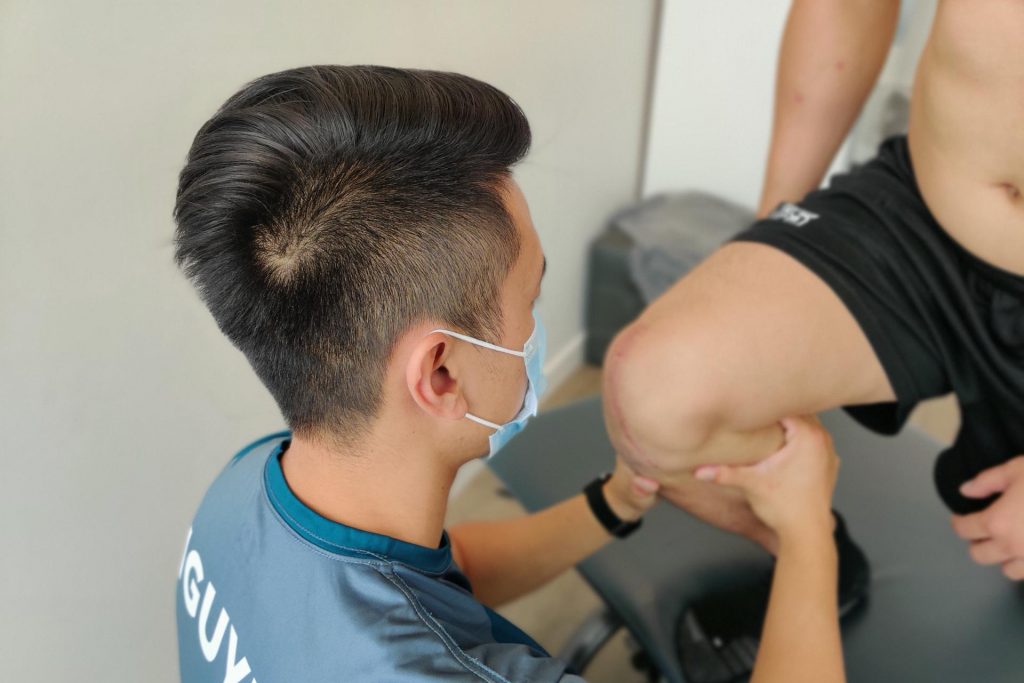 Why is it important to seek treatment as soon as possible?
Really, the entire treatment process starts with your assessment. We want to have an immediate understanding of what the root cause of your knee pain is. We want to figure out if any other diagnostic imaging or referrals to specialists need to be done. Most of all, we want you to be spending your time efficiently, starting you on a path to a pain-free life right now! 
What can I do to prepare for my appointment?
come with flexible clothing – shorts and a t-shirt/tank top are generally best
be prepared for an assessment that will look at the knee, but also the whole body, so we can understand how your knee and body affect one another, assess whole body movement patterns, and also look for signs of whether or not grumpy peripheral nerves, low back or vestibular systems may be involved in your issue.
take time to reflect on how this is affecting your function – are you limiting activities? strength, flexibility or cardiovascular exercise? is this knee injury affecting your mental health (stress, anxiety, depression?), ability to enjoy yourself, your mood, or your sleep?
reflect on: what would you be doing if you were 100%
Take the first step to eliminating your knee pain and achieve your performance goals!
Knee Pain and Rehabilitation FAQs
What is optimal knee function and how does this help your performance and longevity?
Do your knees track over your toes in a squat or do they cave in? Is your knee stable with loaded movements or is there instability? This is one thing we look for when assessing your knee function.
Try these:
With your feet together, squat down as far as you can, aiming to have your hands beside your feet and your knees aligned with your toes.
Balance on one leg with the other foot hovering just above the floor with your knee bent. Hold for about 10 seconds. Repeat with eyes closed, and then do the same with the other leg.
If you can do these with ease and with the same results on both sides pain-free, congratulations! You have good, basic knee mobility and stability. Next we might look at assessments of strength and performance such as ability to jump and land, run, change direction etc…
If you don't pass the above tests, we can quickly perform an assessment to determine the root cause of your movement limitations, so that you can spend your time and efforts fixing the most important issues.
Using assessments such as these, we aim to identify your limitations or pain-evoking movements, figure out where that deficit or pain is coming from, and use a wide range of therapeutic techniques to improve your function. We do this by taking a broader point-of-view and looking at your body as a whole, determining if you have all the building blocks in place to support your hip function. By bulletproofing your knee, you will be able to take your performance to the next level and move better in the long run.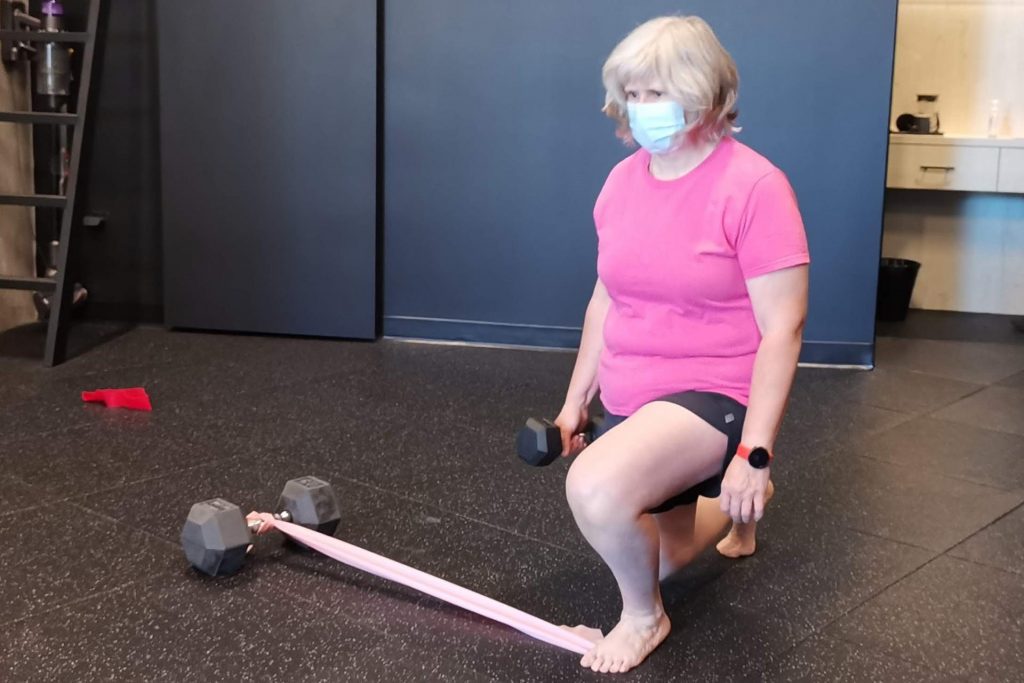 How can Lift Clinic help you optimize you knee performance and achieve your goals?
Performance minded clients start with us typically by seeing a strength coach, physiotherapist or chiropractor – often a combination of strength coach and one of physio or chiro is ideal, because their full assessment will lead to a comprehensive treatment plan spanning manual therapy and efficient exercise programming that brings the best of these practitioners' strengths together.
A head to toe assessment gives us context in your whole body movement and how it might be affecting things locally at the knee. Then we get into a more regional detailed assessment for the knee, starting from your low back all the way down to your foot and ankle. Physio and chiro will typically go more into detail with individual joint and region by region assessments of the body. Strength coaches will work through a wide range of fundamental movements and evaluate how your knee is functioning throughout.
Upon completing your assessment, we will have identified your most important mobility limitations and strength deficits that are be affecting your knee performance. Next we can create a plan to overcome these limitations, as efficiently as possible. With our help, you can overcome these
limitations and really take your performance to the next level!