Read to learn how you can properly stock and use a medkit so you can help athletes in your community stay safe and healthy!
At Lift Clinic, we believe in helping people take steps toward success, by their own definition. In a previous post, we gave an overview of concussion management and how parents, coaches, or trainers can help athletes recognize and recover from concussions. In this post, we will be covering the topic of medkits and first aid. We hope that by educating those in our community about these topics, we can all help athletes stay healthy and focused on their success.
Regardless or the sport or age group, having a properly stocked medkit is beneficial, if not essential, to any team. A good medkit gives you the proper tools to help athletes deal with bumps and bruises, but more importantly, it keeps athletes safe in the event of more severe injuries.
If you are a student trainer, coach, or parent and want to learn more about how you can properly stock and familiarize yourself with a medkit to keep athletes safe, read on!
Familiarizing yourself with your medkit
Things can happen fast on the field or court, so it's important to become familiar with your medkit and have it properly stocked. Before each game or practice, take a look at your medkit and ensure the following:
It is helpful to keep an inventory of the supplies in your medkit and the supplies that you have in reserve. After each game or practice, ensure that the supplies are restocked and ready for the next event.
Most medkits will have compartments and pockets that make it easy to keep your medkit tidy. Organize your kit in a way that makes sense to you so you can find supplies quickly when they are needed. In our medkits, we have a section for taping supplies and a separate section for first aid supplies.
Some items in your medkit such as soft rolls of tapes can be fragile. It can be helpful to keep these items in their boxes or in a safe section so that they are intact when you need them.
The key concept here is that you never know when you'll need to use your supplies urgently, so always be prepared!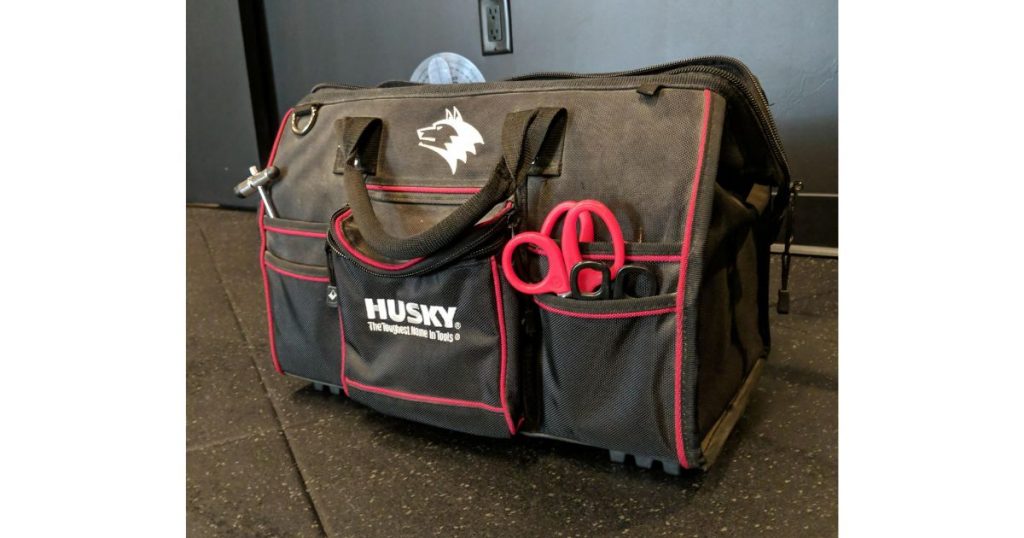 Visit our Instagram to see how we keep our community safe!
Based on your sport, you can determine appropriate supplies and budget for the kit start-up and re-stocking for your season. Although it's nice to have an abundance of supplies, it's important to understand that these supplies come at a cost and they're not cheap. Items should be used with purpose and with minimal waste.
In general, a medkit should have two primary components:
We will go in depth on everything related to taping in a future post, but for now, keep reading to learn about what kind of first aid supplies to keep in your medkit.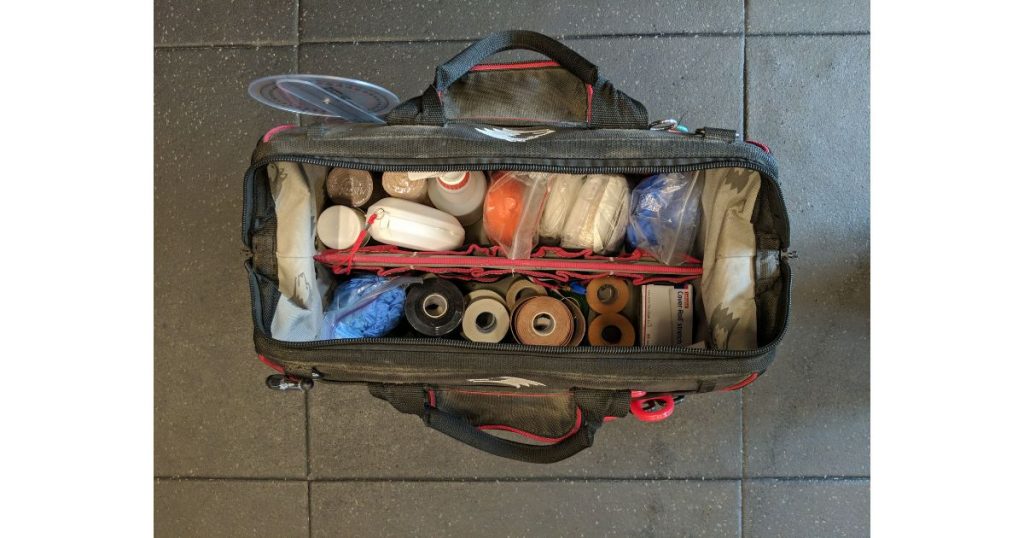 First aid supplies to keep in your bag
Our medkits include a small first aid kit, gloves and a CPR mask. We also commonly include a spray bottle with salene or distilled water, to allow wounds to be flushed/cleaned prior to applying bandages. 
Within the first aid kit, we carry the following:
Big non-adherent pad x4
Small non-adherent pad x4
Knuckle bandage x4
Finger tip bandage x4
Purell wipe x4
Alcohol wipe x4
Polysporine x4
Triangle bandage x1
Conforming stretch bandage x1
Pressure bandage x1
This is a fairly extensive list, but depending on the nature of your sport, you can choose to scale your first aid kit up or down.
First aid supplies also include a pen and paper, and forms such as SCAT5 and CRT5 for sideline concussion management. Lastly, if you're managing a team it is important to have emergency contact information, medical/allergy information and personal health numbers for emergency preparedness.
Dealing with an on-field injury? Click to book online or call us to book with a clinician and get back to 100%
Learning to provide on-site first aid
Beyond having fully stocked medkits, you'll need to know how to properly provide first aid to help an injured athlete. The first step to doing this is to seek proper first aid training and receive the appropriate first aid certificates.
If you are already trained in first aid and are looking for additional resources, you can take a look at our full presentation on first aid and taping or our previous blog on concussion management. We will also be posting more blog posts in the coming weeks that go over taping techniques and injury management techniques for upper and lower extremity injuries so stay tuned!
Finally, if you are a student looking to gain first aid experience with athletes, you can look for student trainer opportunities at your school or in the Athlete Health Liaison program that we are running in partnership with Misfit Ultimate this summer. Keep an eye out for future intake cycles if you are interested!