Beat Shoulder Pain and Improve Performance With Lift Clinic's Vancouver Physiotherapy, Chiropractic, and RMT Massage Therapy Team.
Ok, let's talk about the shoulder! What to expect from rehabilitating your shoulder pain with Lift Clinic, and how our clinicians can help level-up your shoulder function and performance. 
Whether you're here for performance...
Having a shoulder issue that's been hampering my workouts and day-to-day life for some time, I thought I'd look for Travis who had treated me years ago for various injuries which he successfully cured. I've been to several physiotherapists over the yrs, and Travis is head and shoulders above them all. Along with Travis's treatments, he recommended that I see Dan ( chiropractor ) in the same clinic. With their combined treatments, I've noticed a distinct improvement, right from the first session. I wholeheartedly recommend anyone who is looking for either/both a physiotherapist/chiropractor to come to Lift.
...or for rehabilitation, we're ready to help.
I went to see Henry at Lift after speaking with both my doctor and two massage therapists regarding issues in my neck and shoulders and an inability to lift my right arm above the horizontal. Within 10 minutes Henry had identified the main issues, isolated them into acute and chronic types and by the end of our first appointment had developed an exercise routing for me to follow at home. I started to see improvement within days which has continued gradually during the following weeks and follow-up appointments. I would recommend to anyone
Take a sneak peek into how we treat shoulder pain and injuries at Lift Clinic
Physiotherapist Travis Dodds shares how clinicians at Lift Clinic can treat your shoulder pain and heal injuries.

What's it like to rehabilitate your shoulder pain with Lift Clinic?
At lift clinic we strive to provide you with a thorough assessment that incorporates an understanding of your head to toe movement abilities and how these relate to your pain and injury. We believe in helping clients level up movement by addressing root causes of pain. As a team we train together to help ensure our clinicians know the abilities of their teammates. This is so we can make accurate "passes" when sharing clients, like how elite sports team make passes as they work towards scoring a goal. 
To start, we will conduct a thorough head-to-toe assessment and get you some information on what we think is going on your with your shoulder. From there, we'll let you know if it's going to help to work with another discipline. If so, we'll do so as a team, applying our collective skillset to get you where you need to be.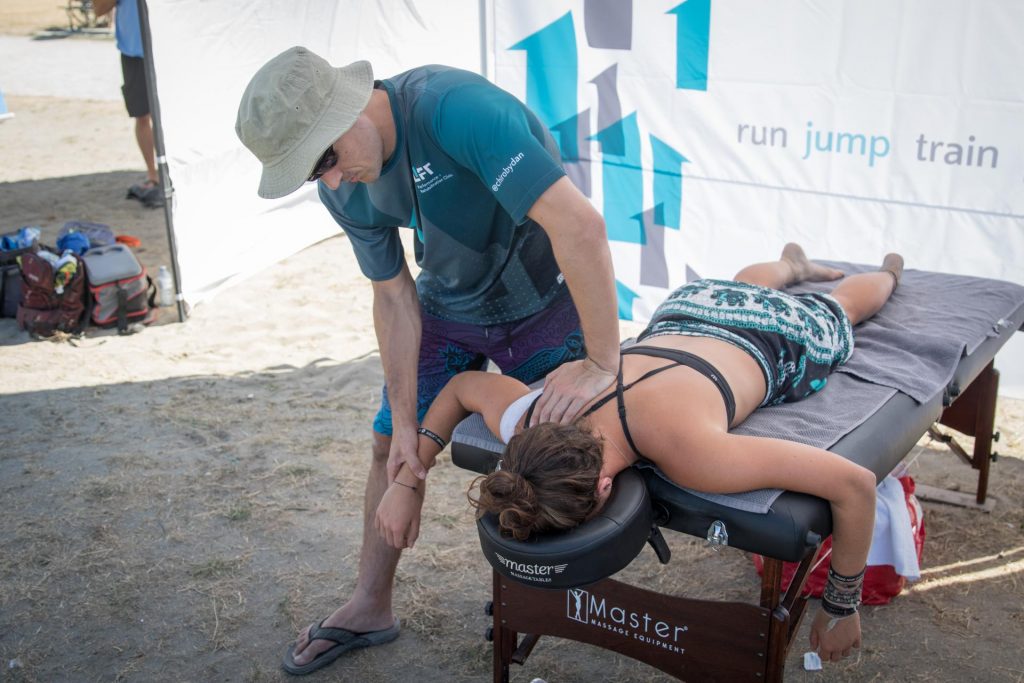 Your body is a pretty intricate and interwoven machine. If you have pain in one area, such as the shoulder, the root cause of this pain can come from several other areas. We look at pain in the context of your trunk rotation, neck movement, etc, really honing in on why your shoulder isn't feeling or moving it's best. 
We encourage clients to think big picture and help us understand who you are and what's most important to you. So we like to start by asking questions like this: 
What would you be doing right now if your health and function were 100%?
This is a question we want each and every one of our clients to ask themselves before they come in. Every client has their own unique goals and abilities. What's important to you and what you want to achieve is a fundamental factor in creating your individualized treatment plan.  Our aim is to help you overcome pain and improve performance so that you can keep doing what you love!
Why is it important to seek treatment as soon as possible?
The main thing here is getting that early initial diagnosis. We want to know what what's going on, and start getting you informed on what you can do right now. In most cases, if you have shoulder pain or suffer an injury, there's something that was underlying in the first place. We want to assess the issue and start on getting it better ASAP. We also want to extend that assessment to look at what the root cause of this issue is for you and address that too. The sooner you tackle your shoulder pain or injury  and start your recovery journey, the sooner you can get back to 100%.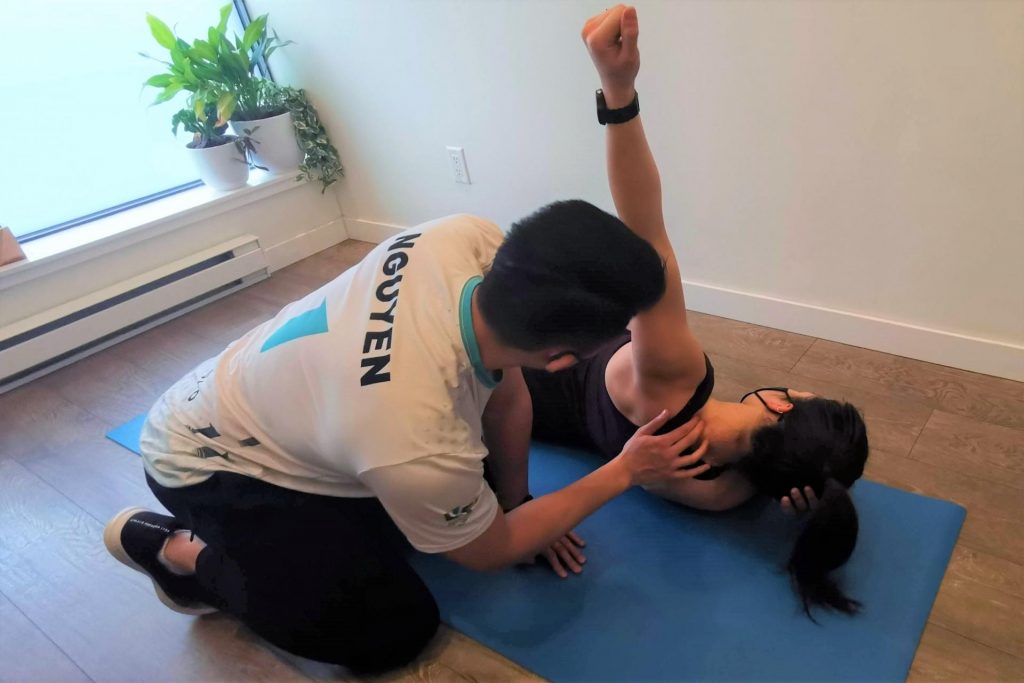 What can I do to prepare for my appointment?
come with flexible clothing – shorts and a t-shirt/tank top are generally best – we'll want to see as much of the shoulder blade and spine as possible, in addition the the shoulder, neck and arm
be prepared for an assessment that will look at the shoulder, but also the whole body, so we can understand how your shoulder and body affect one another, assess whole body movement patterns, and also look for signs of whether or not grumpy peripheral nerves or the spine may be involved in your issue.
take time to reflect on how this is affecting your function – are you limiting activities? strength, flexibility or cardiovascular exercise? is this foot injury affecting your mental health (stress, anxiety, depression?), ability to enjoy yourself, your mood, or your sleep?
reflect on: what would you be doing if you were 100%
Take the first step to eliminating your shoulder pain and achieve your performance goals!
Shoulder Pain and Rehabilitation FAQs
What is optimal shoulder function and how does this help your performance and longevity?
Do you have good range of motion and strength in your shoulder muscles and supporting musculature? Can you produce powerful forceful movements that involve the shoulder? This is what we look for when assessing your shoulder function. 
Try these:
Reach your right arm overhead and then, bending the elbow, reach behind your back to touch the top part of the left shoulder blade. Next, switch arms and repeat.

Make a fist with your right arm, reach behind your back pocket and then up to touch the midback as high as you can reach. Extend your fingers, you should have all fingers touching your left shoulder blade. Repeat for the other side.

Lift your arms straight overhead so they are next to your ears. You ideally should be able to do this with your upper traps (muscle between ear/neck and shoulder) feeling supple and relaxed. 
If you can do this with ease and with the same results on both sides pain-free, congratulations! You have excellent shoulder mobility. Next we might look at strength or performance assessments.
If you don't pass the above tests, we can quickly perform an assessment to determine the root cause of your movement limitations, so that you can spend your time and efforts fixing the most important issues.
Using assessments such as this one, we aim to identify your limitations or pain-evoking movements, figure out where that deficit or pain is coming from, and use a wide range of therapeutic techniques to improve your function. We do this by taking a broader point-of-view and looking at your body as a whole, determining if you have all the building blocks in place to support your shoulder function. By bulletproofing your shoulder, you will be able to take your performance to the next level and move better in the long run.
See how we optimize shoulder function and boost your performance at Lift Clinic
Vancouver physiotherapist Travis Dodds shares how clinicians at Lift Clinic can help you optimize shoulder function and take your performance to the next level.
How can Lift Clinic help you optimize you shoulder performance and achieve your goals?
Here's an example of how we've helped clients in the past reach their performance goals:
A CrossFit athlete came to see us off an on over the span of 3 years for a few different injuries. The third time she came in with an injury, she says:
"Every time I come in, and we work through this injury and I get through my symptoms, you always tell me 'here are the underlying things I need to work on.' But, because my pain is gone, I go back to doing my thing. This is my year to come in and I want to get things to 100%."
This is a prime example of a dedicated client who is committed to perfecting her craft and optimizing her performance. With that in mind, we did a proactive assessment and found 45 degrees of trunk rotation to the left, 25 to the right (we want to see 60-65 degrees per side). We set to work on restoring that range of motion and even out the imbalance, even finding some restrictions in her upper neck mobility that were affecting her arm's internal rotation range of motion. After regaining a balanced 65 degrees of trunk rotation to each side, she went from doing 1 pull-up to 7. She had the strength for it all along, but improving her mobility and control in her trunk and shoulder blade actually allowed her to access that strength better.