Here at Lift Clinic we have several Ultimate Frisbee athletes. With the season in full swing, we want our athletes to be feeling their best. So, we talked to our strength coaches, Max Pecarsky and Cody Low about how strength and conditioning can help improve athletic performance in Ultimate athletes.
Take a Listen to Cody and Max talk about the benefits of strength training for ultimate athletes!
I have seen many physiotherapists for my injuries and Travis is by far the best. Travis not only helped treat the problem area but helps you strengthen and stretch other areas in your body to prevent the problem from reoccurring. He is a thoughtful, friendly, and very knowledgeable physiotherapist and I know that I wouldn't have been able to play so many ultimate frisbee tournaments or be as strong without him. I highly recommend him to anyone who wants to get stronger, has an injury, or mobility problems. He's amazing :)!
Travis has helped my athletes in both ultimate frisbee and rhythmic gymnastics, reach their potential by helping them recover from various injuries as well as teaching them how to do proactive treatments such as using pipes to release muscles. He also helps by making it understandable for the kids no matter what age they are so that they are invested in their own health.
How can strength & conditioning help me jump higher?
In order to jump higher, you first need to learn how to jump properly.  Learning to jump properly is so much more than just "bending your knees" and "jump".   The first step is evaluating the mechanics and movements that go into a quality jump, and identify where any errors or weaknesses are happening.  After we break down what goes into the jump, you will then progress to adding weight and load to help you develop more power. Getting that extra inch or two in your vertical jump can mean the difference between making that game winning catch in Ultimate, or not.
Why do we add weight into jumps?
To get the maximum power from your jump, you want to increase the amount of output applied from your body into the ground.  Training jumps with weights allows you to increase that amount of output applied into the ground.  
There are two core parts that go into a good sprint: acceleration and deceleration. You need a solid acceleration to gain speed, and then you need a solid deceleration to stop and change direction, especially in Ultimate. A strength coach can assess each of these components and pick out key areas to improve on. 
Starting with acceleration, you need to refine where in the body the acceleration is coming from.  A lot of athletes often accelerate with their head down – this is an example of faulty mechanics that your strength coach would identify so that you can train a more powerful and explosive movement pattern. The goal of a good acceleration is getting the movement to drive from your hip instead of your head, and you can do this by strengthening the legs. 
In Ultimate you also need to be confident in stopping and changing direction, so you need to be good at decelerating. Getting better at deceleration will allow you to effectively stop, pivot, and throw around your opponent faster.  In the gym, we want to get you sprinting faster by breaking down the movement mechanics and working on core rotational strength to help you pivot.
How can I throw faster, with more accuracy?
Just like stopping and pivoting, throwing also takes an immense amount of core rotational strength.  In the clinic, we can use equipment like medicine balls, bands, and cables to teach you how to effectively recruit your obliques in particular to maximize rotational power.  If your obliques are not fully engaged you will be leaking energy, whereas stacking and bracing your core will give you more rotational power. Working on increasing core strength will help you release with more power which will give you faster throws!
How can I layout with confidence?
Laying out confidently, and without fear is a vital skill that all Ultimate athletes can work on.  Apart from the mental aspect, having a strong enough upper body to absorb the landing can go a long way in getting over the fear of laying out.  There are two things that can be done to help prepare your body to absorb a landing effectively.  The first thing you can do is strengthen the neck, shoulders and arms in relation to a stable core. The second is to actually train landing mechanics for dives, rolls etc so that you can transfer the force of your fall effectively as you come to meet the ground.
Get started with a Vancouver Strength Coach today at Lift Clinic!
What would an annual training program for an Ultimate athlete look like?
You want to start with the basics of learning how to move properly (for example, learning core bracing strategies).  Learning and perfecting dynamic movements is the prerequisite to the next step, which is learning how to load the movements, and then how to speed up the movements.  
Building this framework into an Ultimate specific program requires us to divide the year into off-season, pre-season, and in-season. 
In the off-season, you learn how to move, and up the loading and training to get stronger in preparation for the season ahead. 
When you are in preseason, the program would require progressively deloading to get ready for your sport.
The training then continues throughout your season by maintaining skill and consistent strength so you can stay injury free for (hopefully!) the entire season!  
The cycle then repeats itself, with more specific training to help you hone in on strength and athletic potential. Your strength coach will use programming variables to help you build muscle and then improve your neuromuscular control to enhance explosiveness and endurance to meet the needs of your sport.
What really excites us is the chance for athletes to do this year after year and truly reach their potential.
Why should an Ultimate athlete work with a strength coach?
To put it shortly, strength coaches are the experts.  By working with a trained individual who has dedicated their career to this field, you will get the education you need to maximize your athletic career.  They undertake sport-specific research to learn the most effective ways to train the body for what it needs.  
Whereas sports coaches are experts in athletic skills, strength coaches can help you target what you as an individual need to maximize your physical performance as an athlete.  Having access to an individual who can motivate, supervise and provide personalized feedback can go a long way in pushing you beyond what you think your athletic potential is!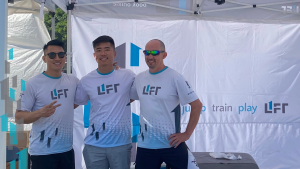 Earlier this month, we had the privilege of providing on-site care to U17 and U18 volleyball athletes at the BC volleyball provincials.
Read More »