Refer to a Chiropractor? Why?
I've been practicing physiotherapy for over 10 years now. At this stage I feel quite confident in my ability to assess and treat a wide range of injuries and movement limitations. But I refer to a modern Vancouver chiropractor every week.
On first glance you might think it best to see one therapist who can do everything you need. However, with the scope and complexity of rehabilitation and performance goals we see, we take pride in being able to send clients to the best possible professional for their specific needs.
We refer to chiro, physio, massage therapy, strength coaches, family doctors, sport med doctors, surgeons, podiatrists, yoga instructors and sport coaches to help our clients succeed. There have also been numerous occasions where I've been able to join in on a chiro session and really team up which have generally been very productive and fun. 
1. I refer to a chiropractor because they're a valued contributor on our team
Have you ever been part of a really good team? Or been close to one?
I have been fortunate in my life to have had some really great experiences in team sports as an athlete. But it was during the years that I spent working as a physiotherapist with the UBC Thunderbirds women's and men's volleyball teams, I had the opportunity to experience something really special. The daily behaviours of a national champion team. During the years they won national championships, each individual was put in a position to execute on their strengths to the maximum of their ability and to the maximum benefit of the team. Everyone is working towards a shared purpose.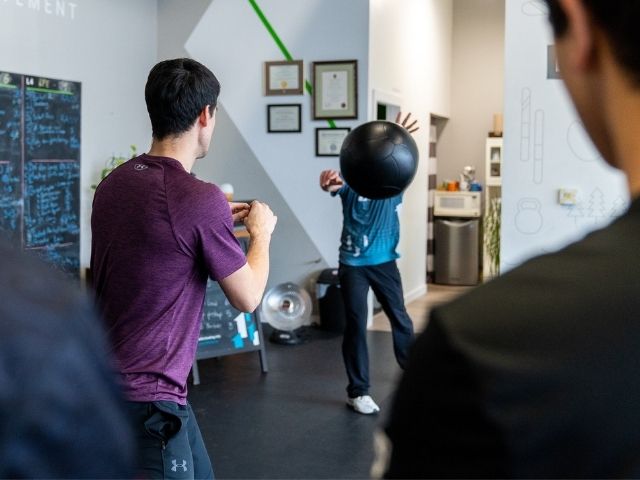 2. I refer to a chiro who sees the body through the same lens but offers a different vantage point
A modern Vancouver chiropractor has often studied from some of the same text books and read some of the same journals that we as physiotherapists have read and used to train and form our approach to assessment and treatment.
All of our therapists at Lift Clinic have also completed specific course work as a team. This ensures that the way that we assess and treat the whole body is based and well-established principles. In other words we want to be able to see the body and see movement in the same way. But with that said, no two professionals will ever have the exact same training and experience. There is often value in collaborating with a like-minded professional in order that you can see things from a slightly different perspective, especially when trying to solve complex problems. 
3. I refer to chiropractic for specific injuries and conditions:
Low back pain, sciatica and discogenic pain (disc injuries)
Neck pain and spasms
ACL rehabilitation
Foot and ankle mobility issues
Thoracic and pelvic mobility issues
There are certainly more conditions but this is a good start.
4. I refer to a chiropractor for these performance goals:
Squat deeper
Jump higher
Optimize flexibility
Sports injury management and return to sport planning
5. I refer to a chiropractor because their skillset complements mine
This builds on the previous point. There are many things that physiotherapists and chiropractors do which are very similar between the two professions.
In fact I like to think we're all on a journey to provide the best quality care to our clients and so of course many times we steal the best ideas from one another's professions! But there are some fundamental differences in our training and in our day-to-day practice which can become strengths overtime. It is important to me to understand the skills of the people around me so that I can ensure my clients get the most effective and efficient solutions to their problems.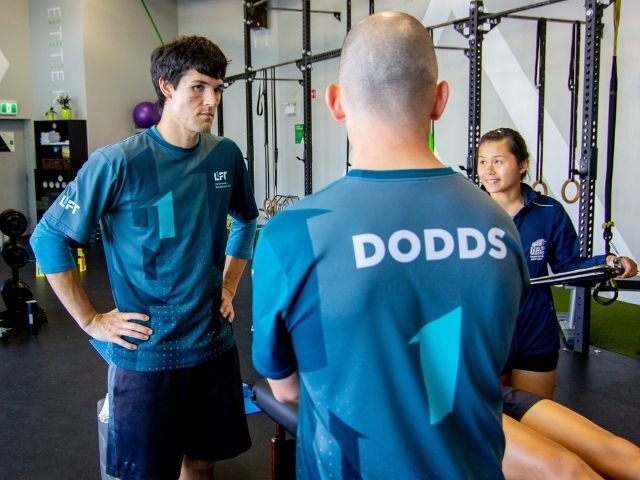 6. I refer to a chiropractor if I haven't gotten the results I wanted in about 3 sessions
This one is important here at Lift Clinic.
Consider as a client – you come in with a goal to reduce pain or improve range of motion, or re-establish strength and stability to enable a certain movement. We conduct an assessment and then make a plan of how we can reach that goal.
If progress is slow, is there a chance we're missing something? Refer.
If there's no progress? Refer.
If results aren't lasting? Refer.
A simple rule of thumb is if we haven't seen progress toward the goal in 3 sessions, we need to be thinking about who in our team and our broader network may be able to help this client. 
7. I refer to a chiro when my client's needs will exceed their physio budget – but they have a separate budget for chiro!
Do you have a complex problem that will take more than 6 sessions to treat?
Do you have a benefits package like $500 for physio, $500 for chiro and $500 for massage therapy?
In the past two decades, the cost of living, cost of operating a business and the cost of physiotherapy services have increased by as much as double, but your extended health coverage increased at all. Your $500 physiotherapy budget used to cover 12 sessions and now covers 6. 
So if you're treating a complex problem or tackling a big goal like optimizing movement across your whole body, working with a team makes sense. It's a huge advantage if we can team up with other disciplines to help you access more treatment, when you have extended health coverage with separate limits for separate treatment disciplines.
So there you have it!
These are several of the reasons why I refer to a modern Vancouver chiropractor here at Lift Clinic. I hope you found this interesting! Were there any surprises? Any questions? Please leave us a comment below!