Beat Hip Pain and Improve Performance With Lift Clinic's Vancouver Physiotherapy, Chiropractic, and RMT Massage Therapy Team.
Ok, let's talk about the hip! What to expect from rehabilitating your hip pain with Lift Clinic, and how our clinicians can help level-up your hip function and performance.
Whether you're here for hip performance...
"Travis was instrumental in getting me ready for events in 2015. Without his treatments, I wouldn't have been able to do the Tough Mudder at Whistler or the Propera Valley GranFondo. Travis takes time to understand the issues and not only rehabs the areas, he provides on-going exercises to prevent future issues."
...or for hip pain rehabilitation, we're ready to help.
"Highly recommend Henry Young. I have been seeing Henry Young for the last month and he has been extremely helpful in assisting with relieving my lower back pain and hip flexibility. I will continue to see him to gain more core strength and lower back strength."
Take a sneak peek into how we work with the Hips at Lift Clinic and help relieve hip pain.
What's it like to rehabilitate your hip pain with Lift Clinic?
Many things around your hip can be causing your pain. Your hip joint is really neat because it's a ball-and-socket joint, with nearly 360 degrees of musculature surrounding it, helping to keep everything in place. There is a lot of force transfer and power happening around your hip, so keeping it strong and healthy is important for both performance in sports and everyday life. 
At Lift Clinic we strive to provide you with a thorough assessment that incorporates an understanding of your head to toe movement abilities and how these relate to your pain and injury. We believe in helping clients level up movement by addressing root causes of pain. 
As a team we train together to help ensure our clinicians know the abilities of their teammates. This is so we can make accurate "passes" when sharing clients, like how elite sports team make passes as they work towards scoring a goal. 
We encourage clients to think big picture and help us understand who you are and what's most important to you. So we like to start by asking questions like this: 
What would you be doing right now if your health and function were 100%?
This is a question we want each and every one of our clients to ask themselves before they come in. Every client has their own unique goals and abilities. What's important to you and what you want to achieve is a fundamental factor in creating your individualized treatment plan.  Our aim is to help you overcome pain and improve performance so that you can keep doing what you love!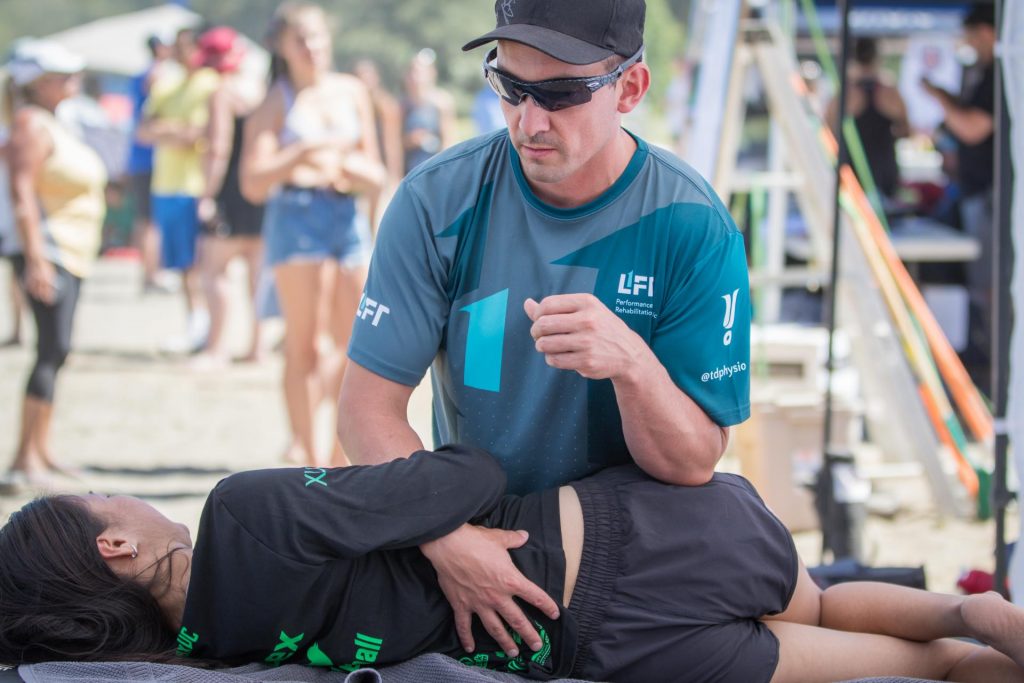 Why is it important to seek treatment as soon as possible for Hip Pain?
Your hip is such a complex area with so many potential causes of pain. We want to assess what the root cause of your pain is, as well as get a specific diagnosis of what's causing your symptoms locally. The sooner we can do that, the sooner we can get you on track to eliminate your pain and address that root cause. 
What can I do to prepare for my appointment?
come with flexible clothing – shorts and a t-shirt/tank top are generally best
be prepared for an assessment that will look at the hip, but also the whole body, so we can understand how your hip and body affect one another, assess whole body movement patterns, and also look for signs of whether or not grumpy peripheral nerves, low back or vestibular systems may be involved in your issue
take time to reflect on how this is affecting your function – are you limiting activities? strength, flexibility or cardiovascular exercise? is this hip injury affecting your mental health (stress, anxiety, depression?), ability to enjoy yourself, your mood, or your sleep?
reflect on: what would you be doing if you were 100%
Take the first step to eliminating your hip pain and achieve your performance goals!
Hip Pain and Rehabilitation FAQs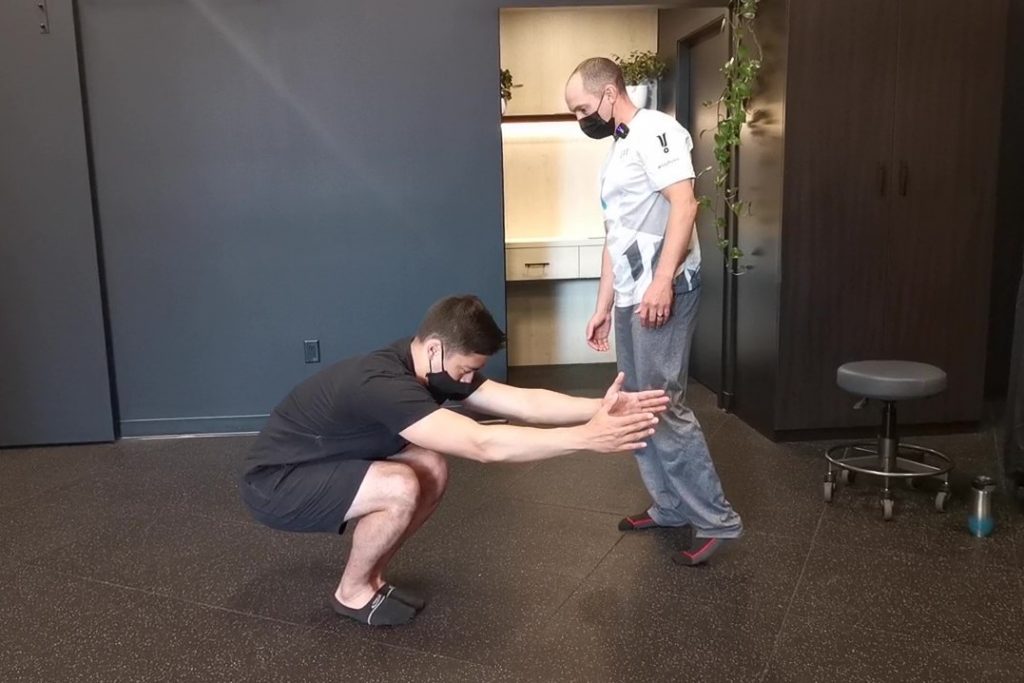 What is optimal hip function and how does this help your performance and longevity?
Do you have good range of motion and strength in your hips? Can you produce powerful forceful movements that involve the hips? This is what we look for when assessing your hip function.
Try these:
With your knees straight, bend over at your hips and try to touch your toes. 
With your feet together, squat down as far as you can, aiming to have your hands beside your feet.
Facing away from a mirror with your feet together, try to rotate your shoulders until you can see the far shoulder in the mirror. Try this on both sides. Can you see your far shoulder?
If you can do this with ease and with the same results on both sides pain-free, congratulations! You have excellent hip mobility. Next we might look at strength or performance assessments.
If you don't pass the above tests, we can quickly perform an assessment to determine the root cause of your movement limitations, so that you can spend your time and efforts fixing the most important issues.
Using assessments such as these, we aim to identify your limitations or pain-evoking movements, figure out where that deficit or pain is coming from, and use a wide range of therapeutic techniques to improve your function. We do this by taking a broader point-of-view and looking at your body as a whole, determining if you have all the building blocks in place to support your hip function. By bulletproofing your hip, you will be able to take your performance to the next level and move better in the long run.
How can Lift Clinic help you optimize your hip performance and achieve your goals?
Your hip is an area where you have an incredible amount of power and force transfer. We see a lot of clients with fundamental strength and mobility problems that are really limiting what they can do in the gym and on the field, etc. If you find your knees caving in, or can't seem to explosively change direction, this may be due to issues coming from your hip.