Picture this:
It's January, 2021. You're working part-time at a locally-owned restaurant on Commercial Drive. You've spent the last month hunting for job or internship opportunities in the field of Kinesiology, with no luck. In one last attempt, you shoot your shot and send an email to every single gym and clinic in a 10 block radius. Enter Travis Dodds, Vancouver physiotherapist and clinical director of Lift Performance and Rehabilitation Clinic.
After a very enthusiastic phone call and informative office hour session, I realized I'd landed on a true gem of a clinic. Immediately intrigued by the clinic's values, Travis' drive to uplift others, and the team's determination to help those in need, I was eager to be involved in any way I could. 
Flash forward four months and here I am, Client Experience Manager of Lift Clinic, and loving every minute of it. I can honestly say that this is by far the best establishment I've ever been a part of, and am so very excited for what's in store.
Read on for a behind-the scenes look into what it's like to work at this local clinic in the heart of East Vancouver.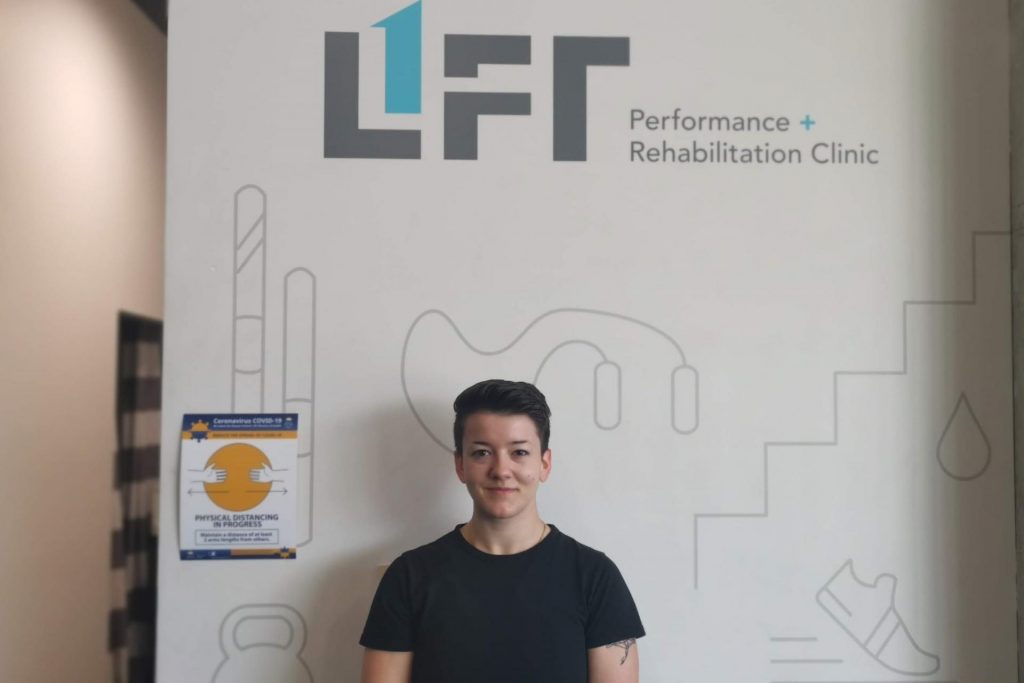 Why did you choose to get involved in Lift Clinic?
When I was searching for a kinesiology-related company offering internship or job opportunities for undergraduate students, here are some of the qualities I looked for:
First, a team-based structure that emphasized working together to best meet the needs of clients.
Second, a values-oriented business model that puts client care and quality service first and foremost. I was looking for a team dedicated to helping people move their best and having clients' best interests at heart.
Lastly, and most importantly, an environment that supports personal and professional growth.
Lift Clinic not only manages to check all these boxes, but goes above and beyond any expectations I had to begin with. A combination of luck, compatibility, and determination landed me where I am now, and I couldn't be more grateful.
Lift Clinic is one of a kind, staffed with dedicated clinicians who genuinely care for their client's wellbeing. Travis has built an impressive clinic from the ground up that has grown tremendously, leading to the opening of our first independent location. I've joined this team at the perfect time, to say the least. 
What has been the most impactful thing about your experience so far?
This is an interesting question as Lift Clinic has impacted my life in so many different ways. As an aspiring clinician, the biggest impact has been experiencing what it means to provide service to clients in each discipline (chiropractic, physiotherapy, RMT massage therapy) as well as how they can work together. 
Each day brings more and more clarity to what I want to do in the future. What I've learned and still have yet to learn will very much impact the clinician I will be in the future. So far, I like where things are heading!
As an employee, Travis and the team have been nothing but empowering and supportive. Lift Clinic values growth and supporting self-efficacy, which is a breath of fresh air compared to other places I've worked at (no disrespect). With this support, I've become more self-assured, willing to contribute my own ideas, and have tapped into skills that I had no idea I have. I am looking forward to continuing to grow and thrive with Lift Clinic.
Why is physiotherapy, chiropractic, and RMT massage therapy important to you?
You only get one body in this life. One body to go to work, school, spend time with your loved ones, travel, and experience everything life has to offer. In the holistic model of wellness, there are 6 dimensions: physical, emotional, social, intellectual, spiritual, and occupational. This model says that your wellness is best achieved by working on each of these dimensions.
I genuinely believe that physical wellness plays a huge role in supporting each of these dimensions. Being able to perform tasks and keep up with the physical demands of your occupation pain-free. Having the functionality to be able to play volleyball with your friends or go for a bike ride with your kids. Not having pain keep you from doing what you love. You get the idea.
By working with a team of well-educated clinicians who are determined to get you back to doing what you love pain-free, you can be better supported in achieving all dimensions of wellness and live your best life.
What's it like being treated by Lift Clinic's physiotherapists, chiropractors, and massage therapists?
Being treated by them has been a one-of-a-kind experience. In the past, I've seen several other physiotherapists, chiropractors, and massage therapists. Clinicians at Lift Clinic are head and shoulders above all of them all!
For example, I've been having some pain and mobility issues in my left upper back and shoulder. Dan, a true genius of a chiropractor, was able to take my pain from a 7 to a 2 in just 30 minutes! Travis, physiotherapist and mastermind behind Lift Clinic, was able to figure out that the actual root of the problem was in my cervical spine (neck). With IMS Dry Needling and carefully chosen exercises, I've been able to make some big improvements in my neck mobility. 
The clinicians at Lift Clinic are very knowledgeable, considerate, and able to help you understand what's going on in your body. Rather than focusing on your symptoms, they look for the root cause of your pain. By working on the root cause, they can solve issues you didn't even know you had! Not only can they help get you back to 100%, they will take it one step further and help make you stronger than ever. 
Clients love booking online: Easy, fast, no waiting, available 24/7.
Why did you choose to work in the field of Kinesiology?
I've always known I wanted to work in the realm of health sciences. I knew from a young age that whatever I ended up doing, I wanted to spend my life helping people. At first, I wanted to be a surgeon. I was fascinated with how the human body worked and how some cuts and sutures could put a person back together. I also had an obsession with Grey's Anatomy, House, or any doctor show I could get my hands on.
Faced with the reality of endless school and after chatting with some Kinesiology majors, I realized that Kin resonated with me much stronger. I switched to Kin because what they taught made sense. I cannot stress this enough, physical activity is one of the most important things that should be a part of your everyday life. In this day and age, office environments and convenience culture have led us to sedentary lifestyles.
Through my education I learned that exercise can help you sleep better, prevent chronic illness, and improve your mental health. Exercise does what many medical interventions and medications aim to do, both in treatment and prevention. I want to provide service and education to help people move and feel better, and through Kinesiology I can do just that. 
On top of all that, I enjoy mixed martial arts, hiking, snowboarding, weight lifting, soccer, skateboarding, or pretty much any form of movement. I would love the opportunity to share these passions with like-minded individuals and inspire others to be active.
Where do you see yourself in 5 years?
To put it shortly, right here with Lift. I want to continue providing quality service and a values-based establishment. I want to grow professionally and personally. I want to help people, and I can achieve all of these things at Lift Clinic. 
For now, I fulfill these goals by helping to connect clients with clinicians, and by learning everything and anything I can about how a clinic thrives. In the future, I hope to work as a Kinesiologist at Lift Clinic, playing a more direct role in treating clients and getting you back to 100%.