Please meet Team Canada beach volleyball athletes, Megan McNamara and Nicole McNamara!
At Lift Clinic, we value sharing stories with our community as a means of educating the public and celebrating the successes of our clients. Today we're sharing about two of Canada's most exciting beach volleyball athletes, Megan and Nicole, as they work with our team to strengthen and maintain health for optimal performance!
This is an especially exciting week, as Megan and Nicole are currently competing at Beach Volleyball World Championships in Rome! 
See what they have to say :
After needing shoulder surgery back in 2017, I was so afraid that I would be one of those volleyball athletes who struggles with shoulder pain their entire career. Thanks to Travis and his team at Lift Clinic, I trust that this isn't the case. Travis helped me so much throughout my recovery, and has continued to do so over the years. He has so much knowledge of the human body and the importance of the neck when it comes to shoulder health. After releasing tension in my neck my shoulder felt stronger and without pain. I am so grateful for Travis and Lift Clinic for helping me keep my shoulder healthy over the years so that I can feel my best out on the court!
I partnered with Lift because of the team approach Travis, Sam, Dan, Mike and Cody Low of Peak Sports Performance, have taken with my sister and I. There is synergy between everything that we are doing whether it's on the court, in the gym, or in the treatment room. I have already made huge strides working with them in such a short period of time. My t-spine mobility drastically improved after one session and set of exercises with Sam and Dan. My least favourite lift was always a front squat because I felt weak and unstable. Since working with Travis and Cody I've corrected my form and been able to increase the weight a lot faster than previous years.
Visit our IG post to learn more about Nicole and Megan!
Please meet Nicole and Megan!
Nicole McNamara and Megan McNamara are professional beach volleyball athletes representing Team Canada. After first coming to Lift Clinic in 2017, we continue to work with them as they train at competitions around the world. Our physiotherapists, Travis and Sam, work with them for issues such as improving t-spine mobility and shoulder pain. 
We asked Megan and Nicole a few questions about their journey and experience with Lift Clinic in which they shared their responses with us below! 
Megan: My goal is to work with Lift Clinic to improve my strength and movement patterns so that I can feel my best on the court.
Nicole: My goal I hope to achieve in the next 5 years is to qualify for the Paris 2024 Olympics.
Megan: Not only is everyone extremely knowledgeable, they are also very pleasant to work with. I trust that working with everyone at Lift Clinic will help me achieve my goals and stay healthy while doing it!
Nicole: Travis & Lift Clinic not only treats my aches and pains, but we work proactively to ensure that my body moves in a way that will prevent future injuries.
Work with a team who love volleyball as much as you do.
Why are you sharing about your experiences?
Megan: This blog series is exciting to me for many reasons. The first being that as an athlete it's sometimes hard to know what to do to take care of yourself, especially when a part of a bigger program that takes a one-size-fits all approach. 
By sharing our experience as volleyball athletes, we hope to be able to help many athletes take steps to learn why they are experiencing pain and what steps they can take to prevent/treat the issue. Working with Lift Clinic has also empowered me with knowledge about my own body so that when I'm on the road for tournaments I'll be able to better take care of myself, and I hope others will discover this for themselves.
Nicole: I have big goals for my career, and my body and health is a huge part of this. Staying healthy and being able to consistently compete at the highest level is so important for success. We hope to inspire young athletes pt learn about their body, improve their movement and train to be stronger so they can stay healthy and reach their highest level too!
See what our Lift Clinic practitioners have to say about working with Megan and Nicole!
Travis: For me, this is an opportunity to help two of the most dedicated and capable athletes represent our country and reach their dream of competing and medalling at the Olympics. In order to do this, our aim is to be as proactive as possible, assessing their movement with or without pain, optimizing their movement and enabling them to train and compete at 100% throughout their journey. So many volleyball athletes struggle with low-grade, chronic pain throughout their off-season and on-season. We view these injuries as largely preventable and aim to put out the little fires before they become problematic. So far, this is exactly what we've been able to achieve together and we're so excited to see Nicole and Megan heading to their first World Championships at the senior level! Lets go!!!
Sam: I had the pleasure of meeting Megan and Nicole when they were 12, and it is amazing to see how far their dedication to their sport has taken them. It's been an honor to be a part of their journey.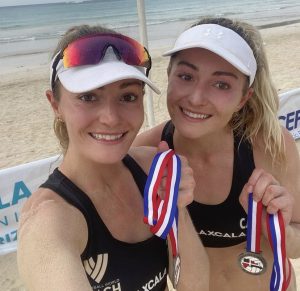 Good luck at World Championships Megan and Nicole! We're all cheering for you back home!