Please meet our practicum student Kylan!
Kylan has been our practicum student who has been working diligently with our strength and conditioning coaches Shauna and Max. Kylan graduated from the University of Calgary with an undergrad in health and physical education. He is now doing his masters in Kinesiology focusing on coaching science at the University of British Columbia where he is completing one more semester until he is graduated.
Student athlete experience
Kylan was a student athlete, playing varsity soccer at the Mount Royal University where he came across injuries and surgery. These experiences of sport, injury, and learning correct movement patterns during his rehabilitation exposed him to the world of kinesiology and inspired him to pursue his master studies at UBC and led him to his practicum at Lift Clinic where he gained essential clinical knowledge.
During his two and half month practicum with Lift Clinic he was able to work and meet a wider range of clients that gave him a broader outlook working with the general population along with high performance athletes. A critical part of his practicum was that Kylan was able to learn and apply his knowledge in a clinical setting where he was able to collaborate with our strength coaches Shauna Pearce and Max Pecarsky along with our physios, chiropractors and massage therapists. A key part takeaway Kylan learned at the beginning of his time at Lift Clinic was the importance of movement and getting active and that not everyone has to move the same way. 
Another part of Kylans Lift Clinic experience he was excited about was firstly joining a team setting. Additionally he was keen to try a more clinical side to his coach practice. When he was an athlete he saw the importance of kinesiologist and how fundamental they are with athletes movement patterns, overall health and success.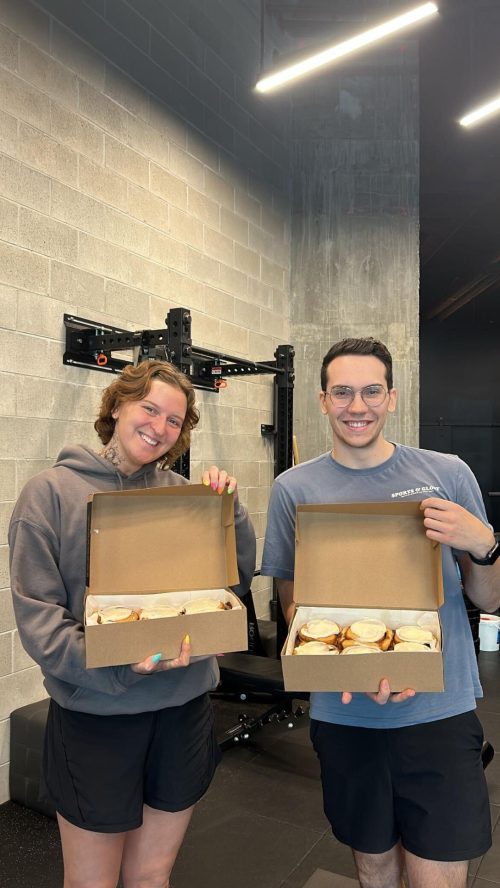 Creating warmup and workouts
Kylan worked hands on with Shauna creating warmups for clients where he was able to independently apply what he learnt and then receive feedback on his work as they worked as team working  through the warm up, taking notes and fine tune it and then the final step was taking clients through warmups as Shauna was confident in the warmup program Kylan created. 
Another key focus of Kylans practicum was learning how to program warmup and workouts for clients. Shauna would supply Kylan with scenarios where he could practice creating programs for specific clients focusing on exercise selection, order, rep and sets. One of his favourite parts of the practicum was the time and opportunity he had to grow and be creative with his plans and workouts. 
1-1 mentorship opportunity
Shauna is very experienced with mentorship programs at Lift Clinic so she was very passionate and excited about working one on one with a practicum student. She is passionate about creating spaces where individuals can apply their knowledge, apply and expand their knowledge and grow as young professionals in a clinical team space. In her time working with Kylan she found working in a one on one capacity allowed for more thorough teaching and a more meaningful relationship.
In addition, one of Shaunas goals is making mentorship opportunities more available for students and new grads and to allow them the space to learn what the world is like after your graduate and how to find opportunities in clinical spaces. Shauna has been a grounding force at Lift Clinic creating essential student resources and being pivotal in the Athlete Health Liaisons program at Lift Clinic.